I have found a new favorite blog and I AM IN LOVE! There are some amazing ideas and everything looks so yummy. :)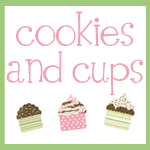 As I browsed through the blog I found a recipe for Double Choc Chip Cookie Dough Brownies. I ran out and bought cookie dough and the cookie dough bites. The brownies are really yummy but took a long time to cook - I think that I used a pan that was too small. Next time I will use a 9x13 pan instead of 9x9.
The recipe is very simple.
Make your favorite brownie mix (homemade or box), mix in 2 boxes of movie size Cookie Dough Bites (4oz each). Pour into pan and then drop choc chip cookie dough on the top. Cook according to brownie directions. Again I recommend using a 9x13 pan instead of the smaller pan.
I will make this recipe again and try the larger pan - the edge pieces are too done but I think that the middle will be really yummy.