One of my favorite blogs is Cookies and Cups and today I was looking for an idea of something to make for a teacher gift and found a recipe for Snickerdoodle Bars. Anyone that knows me really well, knows that I LOVE snickerdoodles. They are my fave cookie and I love to make them but they are time consuming and I am all about a quick recipe. So, I just had to try these bars and they are AMAZING!!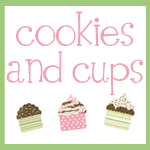 Snickerdoodle Bars
2 2/3 cups all-purpose flour
2 teaspoons baking powder
1 teaspoon Kosher salt
2 cups packed brown sugar
1 cup butter, at room temperature
2 eggs, at room temperature
1 tablespoon vanilla extract
2 tablespoons white sugar
2 teaspoons cinnamon
Preheat oven to 350F. Grease a 9 x 13 inch pan. Sift together flour, baking powder and salt and set aside. In large bowl, beat together butter, sugar, egg and vanilla until smooth. Stir in the flour mixture until well blended. Spread evenly in prepared pan. Combine white sugar and cinnamon in a little bowl. Evenly sprinkle cinnamon sugar mixture over the top of the batter. Bake 25-30 minutes or until surface springs back when gently pressed. Cool slightly. While still warm, cut into bars with a sharp knife.
I had a tough time with the cinnamon sugar topping to brown up, so I turned the broiler on to get it to carmalize and let it go a bit too long. But they are still great and the cinnamon sugar crust is really good addition to the bars.